iPhone Life: Altego Laptop Carriers: Travel in Style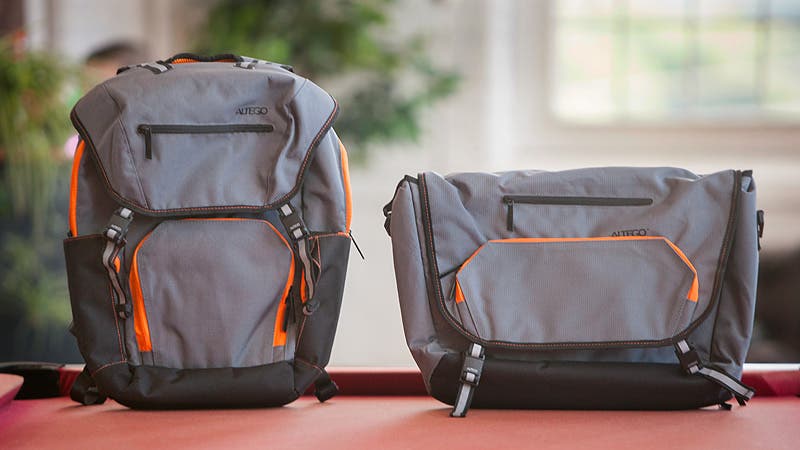 I have a ton of stuff to carry around with me at any given time. I travel quite frequently, and I take my laptop, iPad, and iPhone just about everywhere I go. Because of my need to carry so many vulnerable devices, I've tried roughly 11 gazillion bags that all promise to protect my stuff whilst looking stylish and awesome.
Some of the bags I've tried have been good, some have been ok, but one thing is for sure. I am now an expert on bags. Between my hunt for the perfect carryall and my wife's handbag obsession, if you can carry stuff in it, I know all about it. When I got the 17-inch Polygon Sunfire Backpack ($89.99), and the 15-inch Polygon Sunfire Messenger Bag ($79.99) from Altego for review, I had high hopes for them. They're special because they're specifically made to keep Apple products safe and secure.
Let's see how they did!
My initial impression of the backpack was not so great since I couldn't for the life of me figure out how to get the magnetic buckles to open. I felt silly after noticing that Altego attached a little tag with instructions on how to unbuckle the closures right next to the buckles.  My bad, Altego. The closures slide open laterally, which is different from most buckles. It's actually VERY easy to do once you figure it out, and what I initially thought was a drawback is now a huge strength. Since the buckles are magnetic, they snap closed very quickly and easily, increasing the chance that you'll actually close them since it's so simple and fast. Another strength is that a thief on a crowded sidewalk or train would have a hard time figuring out how to get the buckles open quickly. Take that dirty thieves!  I am smarter than you!
Both bags have a ton of compartment space that's nicely lined and perfectly shaped to fit a 17′ Macbook in the backpack, or a 15″ Mackbook in the messenger bag. Both bags have an interior iPad pocket that's also lined with soft, padded fabric for extra comfort. I know my iPad appreciates this. I swear I heard it go "ahhhhh" when I slipped it into the pocket.
Both bags have a molded padding on the back for extra protection and carrying comfort. I read one review on Amazon where a woman reportedly packed all her stuff into the backpack and threw it across the room. All of her devices remained unharmed. I don't know why anyone would want to do this as a test, but it's nice to know that should one have a sudden urge to throw a thousand dollars worth of Apple products across the room, they might be well protected in this bag. I cannot recommend doing this, however.
The material the bags are made of is water-resistant ripstop fabric, which makes for extra durability plus easy cleaning and protection from rain. Your color options are dark grey with red and orange accents or dark grey with red and orange accents. I'd like to see more color options in the future, but the bags are pretty stylish and can be used for business or casual.
All around, both bags are pretty great and offer secure carrying for your Apple devices, plus plenty of extra room for other stuff as well. At $79.99 and $89.99 the bags seem pricey, but they are very well constructed with high quality materials and will most certainly withstand years of frequent use.
I give both the Altego Polygon Sunfire Backpack and the Altego Polygon Sunfire Messenger Bag 4.5 out of 5 stars.